Library Refurbishment: Week 2 Update
The school library is in it's second week of refurbishment. Find out what is planned for the project this week
Last week, we brought news that the Henry Beaufort library was to undergo a refurbishment. We are keeping up to date with the progress of the refit by taking photographs and looking at which stage we are at every week.
The second week of work is well underway, with the walls in the library being prepped for painting. Project Coordinator Mrs Godlement has chosen an exciting colour scheme, so be prepared for the wow factor when all is revealed! She explains, "Now we have our chosen colours in place, we are deciding if the current curtains can be reused or if we need something original to replace them. This week's decision!".
Getting the walls ready for a lick of paint has involved removing all the old Blu Tack, which has left a number of unusual patterns. Luckily the fresh paintwork will cover these up – and a 'No Blu Tack' rule will be in place when the new library opens its doors!
When preparing the library, it was found that some of the walls were made with a classic old-fashioned building technique. There are no wooden struts in between the walls, just cardboard honeycomb – which means the decorators' job is a more interesting one…!
The coming weekend will see the old carpet removed and a floor-base laid, ready for the new carpet to be fitted once the painting is finished. All the old shelving and benching has already been removed – as can be seen in the photographs below.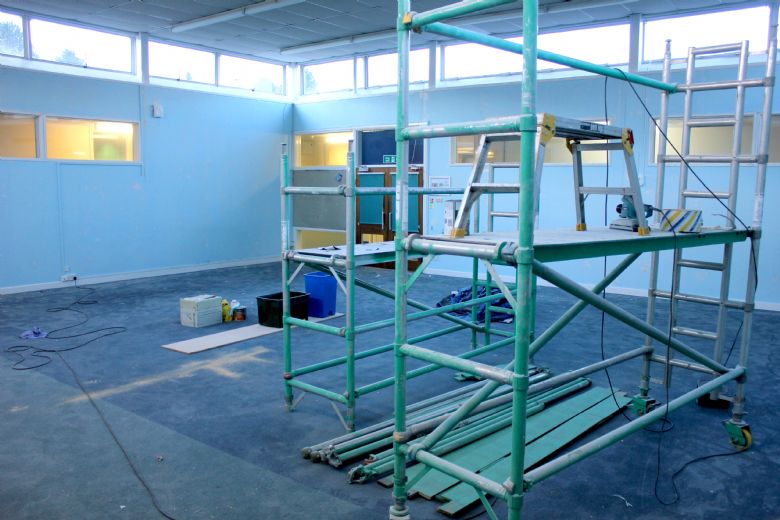 Next up, the old benching in the room that is to become the bespoke IT room will be removed, ready for decorating and fresh benching during the next stage of work. Check back next week to see how Week 3 is shaping up!