STEM Challenge North Hampshire Winners
A team made of girls from The Henry Beaufort School shot to victory at this year's STEM (Science, Technology, Engineering & Maths) Challenge final for North Hampshire this week.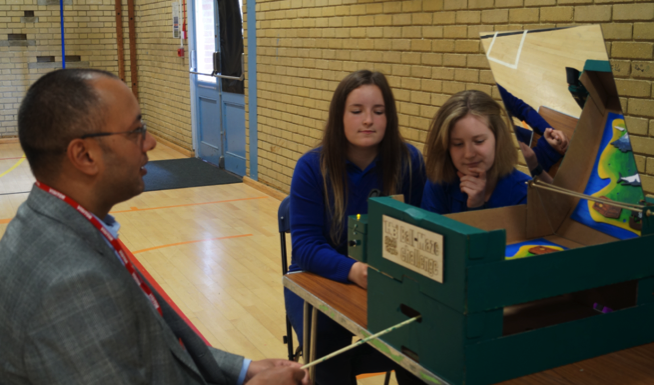 The event, held at Testbourne School, was to select the best entrant from school STEM clubs in 2016. Each team had to produce a game that would be suitable for use at a fete and that utilised recycled materials and that embraced all elements of STEM coupled with cohesive teamwork and planning. The seven finalists, selected from hundreds of entries, were judged by STEMNET managers and TV's Brainiac presenter Jon Tickle.
Henry Beaufort's entry of an adaption of the traditional marble maze game was a clear winner with all judges ranking it as number 1!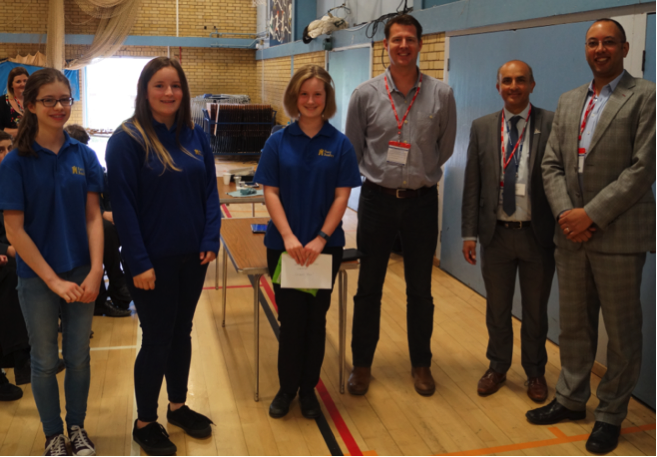 The team consisted of Bethan, Lucy, Jess, Laura & Hannah, Francesca and Kiera led by Mr Webber (Science), Mr Roemer (Technology & Engineering) and Mr Creed (Maths).
Lucy and Bethan are pictured above trialling the maze with Jon Tickle (who failed the challenge!) and picking up the prize of £100 worth of technology vouchers from the judges. Well done girls!