Raising the Flag for Armed Forces Day
"I liked being able to celebrate being a part of the Services. It made me feel proud"
The sun was shining for the Forces flag raising ceremony on Monday 23rd June 2014 which was a relief for Mrs Cashmore, Miss Hearle and the eight service students who went along to the Great Hall for the event. As the soldiers, sailors and air personnel marched in the procession behind the band, the pride of the students was evident.
The annual occasion had a special feel this year as following the Lord-Lieutenant's inspection of the troops, the Duke of Gloucester unveiled the 'To Honour a Promise' memorial: A memorial dedicated to one of the largest World War I camps in the UK.
The students had the following comments to make about the day...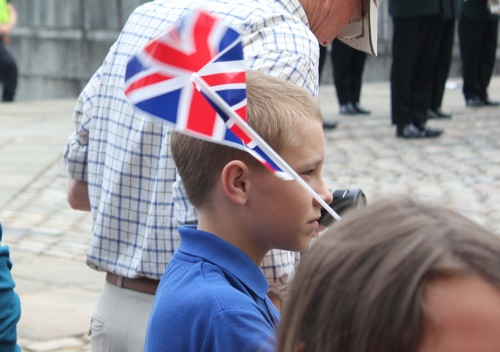 "The memorial was simple but very creative" Year 8
"The memorial was fitting for the cause" Year 10
"I really liked how all the Forces were represented. The march in with the band was my favourite part" Year 7
"I liked being able to celebrate being a part of the Services. It made me feel proud" Year 8